"Killer"

The New York Times
Receiving B.S. and M.S. degrees from The Julliard School of Music, David Taylor started his playing career as a member of Leopold Stowkowski's American Symphony Orchestra, and with appearances with the New York Philharmonic under Pierre Boulez. Simultaneously, he was a member of the Thad Jones Mel Lewis jazz band, and recorded with groups ranging from Duke Ellington to The Rolling Stones. He has also recorded numerous solo CDs on the following labels: Koch, New World, ENJA, DMP, Tzadik, CIMP, PAU, and TLB.
Mr. Taylor performs recitals and concerti around the world: from Lincoln Center in NY to the Musikverein in Vienna and Suntory Hall in Japan. In addition to his own compositions, he has been involved in well over a hundred commissioning projects for solo bass trombone collaborating with composers including Alan Hovhaness, Charles Wuorinen, George Perle, Frederic Rzewski, Lucia Dlugoszchewski, Eric Ewazen, Dave Liebman, and Daniel Schnyder. He has appeared and recorded chamber music with Yo Yo Ma, Itzhak Perlman, and Wynton Marsalis and performs with the Lincoln Center Chamber Music Society, the Mostly Mozart Festival Orchestra, Orpheus, and the St. Luke's Chamber Orchestra. Throughout his career, Taylor has appeared and recorded with major jazz and popular artists including Barbara Streisand, Miles Davis, Quincy Jones, Frank Sinatra, and Aretha Franklin.
Mr. Taylor has won the National Academy of Recording Arts and Sciences Most Valuable Player Award for five consecutive years, and has been awarded the NARAS Most Valuable Player Virtuoso Award, an honor accorded no other bass trombonist. He has also won The International Trombone Association's Award "in recognition of his distinguished career and in acknowledgement of his impact on the world of trombone performance.
He has been a member of the bands of Gil Evans, Thad Jones-Mel Lewis, Jaco Pastorius, Charles Mingus, JJ Johnson, Joe Henderson, George Russell, Michele Camilo, Bob Mintzer, Dave Matthews, Dave Grusin, Randy Brecker, and the Words Within Music Trio (Daniel Schnyder, David Taylor, Kenny Drew Jr., The Art of the Duo (with D Schnyder) and B3+. He has performed on numerous GRAMMY Award winning recordings.
David Taylor is also on the faculties of the Manhattan School of Music, Mannes College, and NYU. He plays Edwards bass trombones and Griego/Taylor mouthpieces exclusively.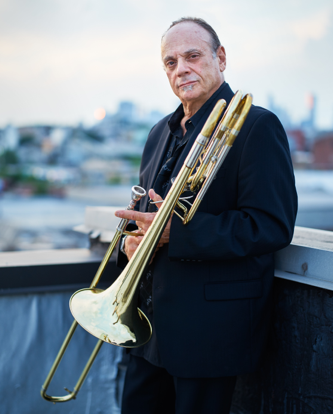 "Brimmed over with comic effects, flights of virtuosity and sultry melodies…
New York Times, Corinna da Fonseca-Wollheim
David Taylor performs exclusively on Edwards Instruments, and has a line of custom mouthpieces.